Whether you love to spend hours splashing and swimming laps or prefer to lie back on a float with a book and a cold drink, most people would agree that there's nothing quite like kicking back for little while on a hot day and enjoying the water. But it takes a lot more than just filling your pool with water and adding a splash of chlorine to keep it safe, clean, and fully operational. While you're doing the backstroke, your pooling wiring system is working hard to power to the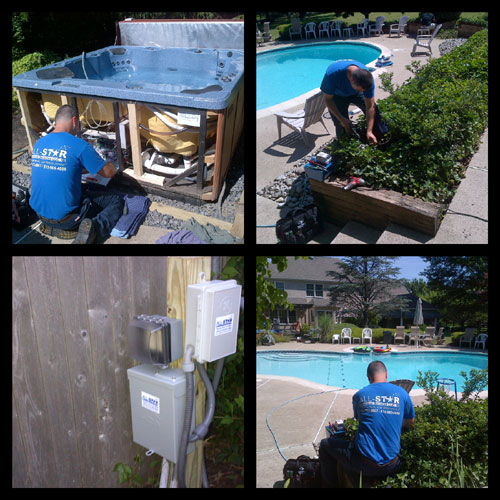 mechanisms that keep your pool lit, heated, filtered, and circulated. A problem with your pool wire could range from merely cosmetic to a serious flaw that could render the entire thing useless, condemning your once beautiful blue waters to sit under a pool cover all summer, gathering algae.
If you are having trouble with your swimming pool wiring, e-mail or call the professionals at All Star Electrical Services, LLC, today to set up an appointment for a consultation. One of our technicians will examine your pool hookups and entire pool wiring diagram to pinpoint the cause of your lapse in service. We can also perform setup tasks, such as pool wiring diagram design and installation, to ensure that your new swimming pool keeps you cool summer after summer! After all, no one wants to swim in the dirty, stagnant water that sits in decommissioned and broken pools—at that point, you may as well swim in a drainage pond! When you call one of our pool wiring experts, you'll enjoy crystal clear water.
Contact All Star Electrical Services if you need help with:
Pool hook up
Inground pool wiring
Above-ground pool wiring
Pool light wiring
The swimming pool wiring technicians at All Star Electrical Services, LLC, have been serving the Philadelphia area since 2005, and we are available to solve pool wire dilemmas for both businesses and residences. We work on pools of all sizes.
Hot Tub Wiring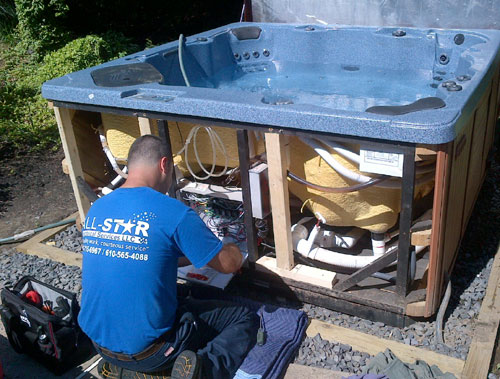 In addition to pool electrical wiring, we are also able to work on hot tubs and Jacuzzis! Without the proper wiring to power the blowers and heating element, these spas will be unable to provide the relaxing effect they were intended to. If your hot tub is dormant due to electrical problems, give All Star Electrical Services a call.
If you're in need of hot tub or pool electrical wiring repair or installation, it is vital that you seek the help of a professional. Features such as pool light wiring require meticulous, error-free service. Faulty work could be dangerous to swimmers and even shorten the life of your entire pool wiring system. Water and wires—they just don't mix. Don't risk injury, property damage, or wasting your money because you settled on amateur handiwork. All Star Electrical Services will perform quality, affordable work that will have you enjoying your summer to the fullest.