Do you love seeing movies on the big screen but hate having to pay the outrageous theater prices for tickets, popcorn, and drinks? Ever wish you could get the movie theater experience without having to worry about other patrons shouting and ruining the movie? Now you can, when you choose to incorporate a custom home theater installation into your very own home. The home theater installers at All Star Electrical Services are here to help you select the features you want based on your viewing preferences. When you hire our home theater company, you can expect:
Ease of use—At All Star Electrical Services, LLC, we can design a home theater installation that is tailored to your needs, so you don't have to fool with tons of extraneous features in order to watch what you want. Our home theater installers will listen to your goals for your new addition and walk you through all of your options. After the components of your home theatre system installation are selected, we will install and configure them for you and then explain their operation, so you are never left in the dark about your newest technology.  
Attractive setup—No one wants their state-of-the-art home theatre installation to look as though it was just slapped together on a whim. When it comes to re-creating the movie theater experience, presentation is vital. Sloppy, crooked screens and hanging wires simply will not do. That's why at All Star Electrical Services we put as much thought into the aesthetics of your home theatre installations as we do in the technical setup. A professional home theater installer will be able to provide discreet wiring, hidden components, professional mounting, and even help create and implement customized designs.
Numerous entertainment options—No one ever said that home theater installations have to be exactly alike. Every customer presents their own needs, and at All Star Electrical Services, LLC, we have the skill to make your dream home theater a reality. Whether you are interested in high-def picture quality or surround sound, we can help. Some common features include projector and projection screens, computer networking, and DVD and Blu-ray players. Contact a home theatre installer from All Star Electrical Services today for a full list!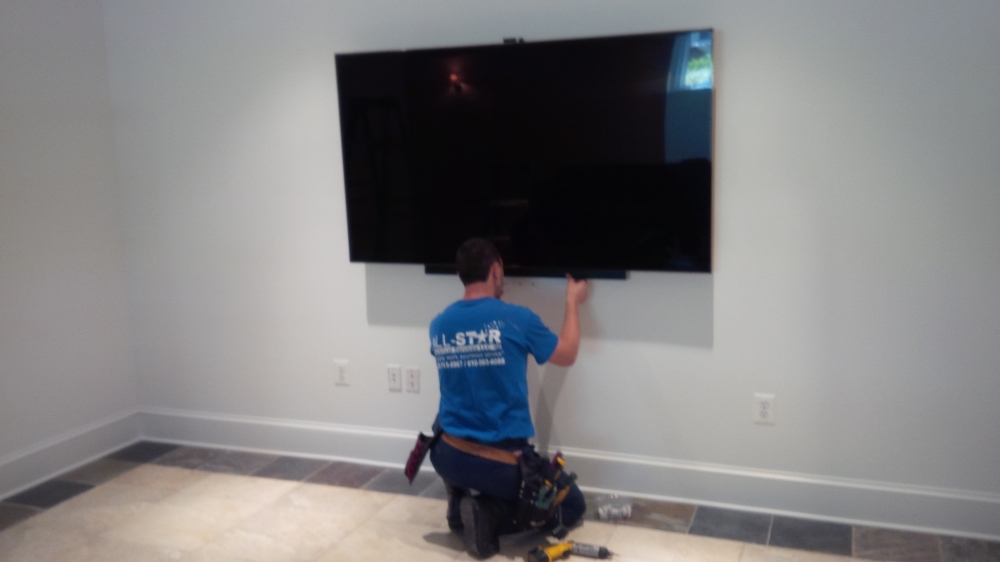 If you're already the proud owner of an in home theatre installation and are interested in expanding your system, contact All Star Electrical Services. We can add your new feature without making large visual or technical disturbances to your current setup, so you don't have to re-learn how to operate your home theater installation just for the sake of incorporating your new feature.
Although these systems are referred to as "home theater installations," they are also great for commercial customers. You'll be able to wow your clients with impressive presentations and so much more with the help of our home theater company. Whether you're installing your new media at a home or in a business, it is essential to hire a professional to avoid mishaps like faulty mounting, damage to your walls, and bad wiring. Trusting an expert ensures that both the technical and visual elements come together to ensure a fully successful home theatre install. E-mail or call us today to learn more about how we can help you.
The home theatre installers at All Star Electrical Services, LLC, proudly serve Philadelphia, Bryn Mawr, and other nearby communities. We put quality before all else, so you can enjoy years of trouble-free entertainment.