When you need to install network cables for your home or business, look no further than All Star Electrical Services, LLC. Whether you're a homeowner who needs a complete cable install for new construction or a business owner looking for network cable wiring upgrades for your office, we've got the skills and experience to provide you with swift results and quality workmanship in Philadelphia and the surrounding region.

The fully licensed, bonded, and insured electricians at All Star Electrical Services have been providing area home- and business owners with a variety of reliable, cost-efficient services since 2006, so you can rest assured that we've got the necessary tools and know-how to work with a variety of cable types. Our team is available to handle network wiring including:
Coaxial cables
CAT5 cables
CAT6 cables
Phone lines
And more
To learn more about how All Star Electrical Services can help you with professional cable installation, call or e-mail us for more information now.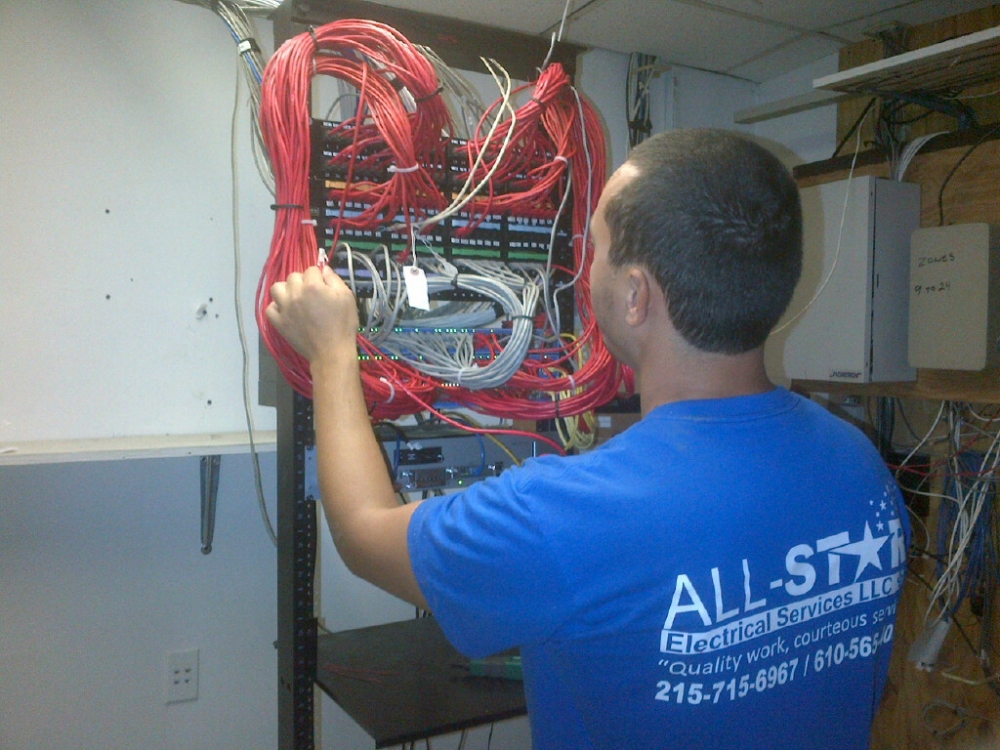 Computer Network Cable Installation
Computer network cable wiring can help you to boost productivity and functionality by increasing Internet and computer-to-computer connectivity. By upgrading your network cables' wiring, you can ensure that each workstation in your home or office can optimally connect to the Internet and other systems on the network. At All Star Electrical Services, our professional cable installer team can help you develop a plan for network cable installation that will adequately meet your individual needs and budget, ensuring that your system runs flawlessly. Whether you need network cable wiring for an entire office building, a few workstations in your small business, or a simple data cable install for your home office, All Star Electrical Services is the team to trust for quality service and impeccable results.

Telephone Cable Installation
In addition to data cables for computer networking, the cable installers at All Star Electrical Services are also equipped with the expertise necessary to quickly and efficiently install network cable wiring for a variety of telephone systems. Whether you're a developer in need of cable installation for a business phone bank or the parent of a teenager looking to install a new phone line, our experienced cable installer team can help.
At All Star Electrical Services, we take great pride in our ability to provide high-quality service at affordable prices. Our cable installers strive to stay abreast of the latest industry standards, using the most current technologies and techniques to ensure that you receive the best possible results from your network cable wiring. From simple residential cable installations to complex systems designed for large office complexes, our cabling installation specialists can handle it all. We're available 24/7, so if you're in the market for a fast and effective cable install, contact us today!